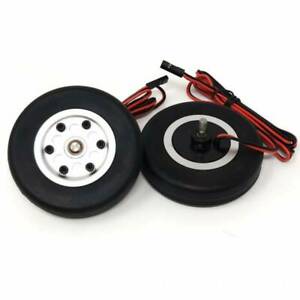 Item is Compatible with the Freewing F-22 90mm EDF model.
The JP Hobby Electromagnetic Control Aircraft Braking System is the easiest to use and most reliable aircraft braking system available. It replaces the old style pneumatic and servo applied remote control braking systems. This design allows for easier installation and better control of braking. High grade aluminum construction with ball bearing wheels and replaceable hollow rubber tires.




Features:

input Voltage: 7.2 - 30 Volts

The braking force is now controlled by the servo travel/endpoints you set in your TX. We recommend controlling the brakes with a 2 position, momentary switch. The brakes are "on" or "off". JP Brakes are not proportional.



Auto shut down after 1 minute of inactivity to reduce battery consumption

Signal Input: Connects directly to receiver to operate.



Specifications:

Wheel Diameter: 65mm/ 2.56 inch

Axle Diameter: 4 mm

Weight: 6.9oz/ 195g (2 wheels and control box)

Included: Two main wheels and a brake controller.